WHAT'S ON
Exhibition runs from 30th November until 8th February 2024
Elliot Rd Ranelagh, Athlone Co. Westmeath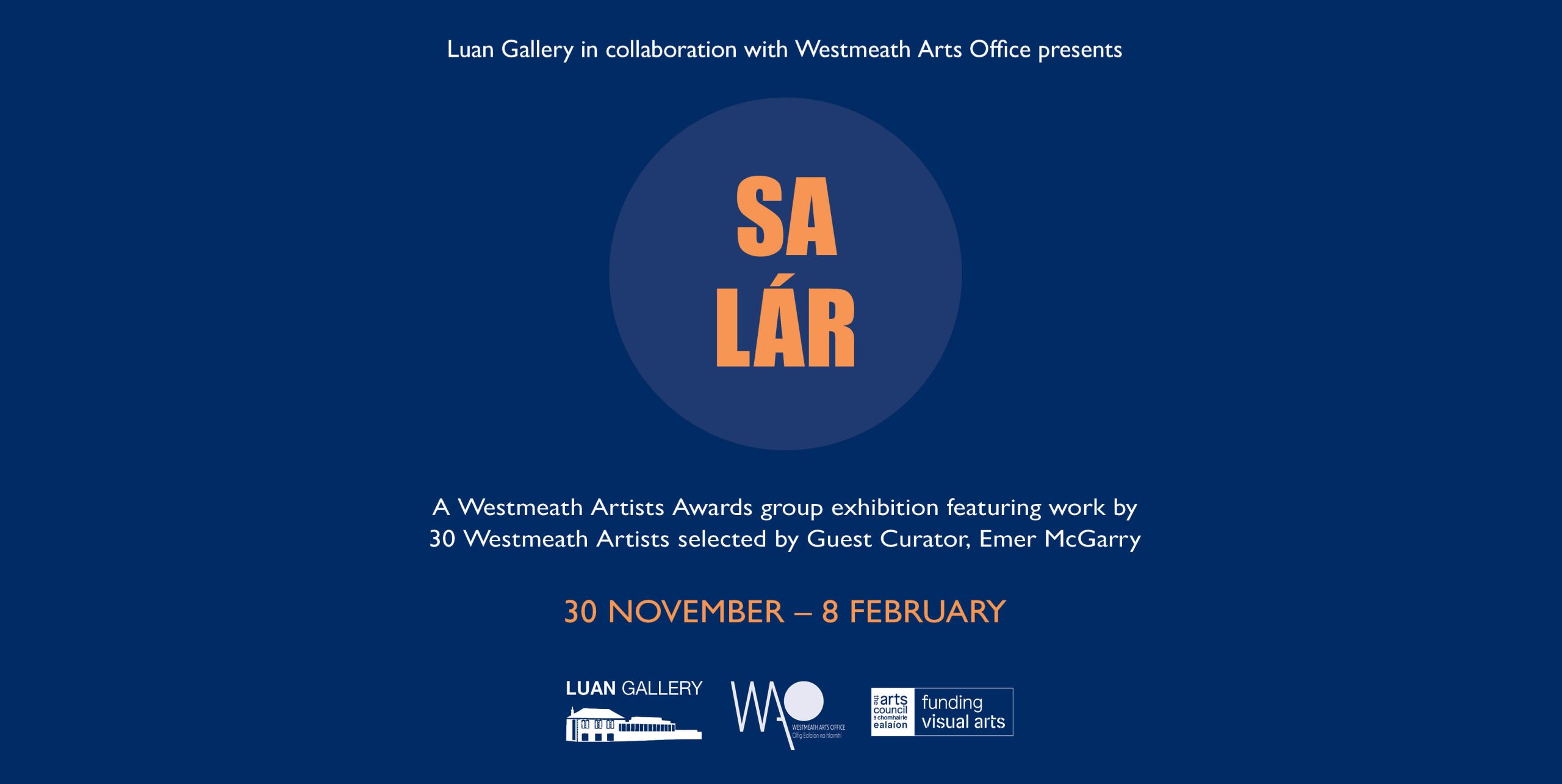 Westmeath Artist's Awards Exhibition
Luan Gallery in collaboration with Westmeath Arts Office presents Sa Lár, Westmeath Artists' Awards Exhibition featuring works by thirty Westmeath artists selected by guest Curator, Emer McGarry, Director of The Model, Sligo. The Westmeath Artists Awards Show is a collaboration between Luan Gallery and Westmeath Arts Office aiming to celebrate, showcase and support the development of Westmeath visual artists' practices and careers and is supported by the Arts Council of Ireland.
Over forty works by thirty artists will be showcased in the exhibition, with several of the artists exhibiting for the first time in Luan Gallery. Westmeath artists selected for exhibition include Anne Marie Burke, Eoin Butler, Rachel Marie Cleary, Martina Coyle, Rachel Coyne, Alan Crowley, Jessica Daly, Bertille de Lestrade, Mark Duffy, Paul Flaherty, Mel French, Claire Guinan, Seán Guinan, Tina Hayes, Fiona Kelly, Hilary Kinahan, Keely McLavin, Kevin Meehan, Lorraine Mimnagh, Muiris Moynihan, Aishling Muller, EL Putnam, Amanda Ralph, Catherine Rock, Paul Roy, Celine Sheridan, Annette Treacy, Lorcan Walshe, Keith Watts, Ann Wingfield.
The launch takes place on Thursday, 30th November at 6pm and all are welcome to attend. The exhibition will continue until Thursday 8th February 2024 with seasonal closures from 20th to 27th December inclusive. Luan Gallery is open Tuesday – Saturday 11.00 – 17.00 and Sundays 12.00 – 17.00. Admittance to Luan Gallery is free and guided tours are available to all at no cost. More information on the exhibition and upcoming events can be found at – http://www.athloneartsandtourism.ie/luan-gallery/ and on Luan Gallery's social channels.
NOTES FOR EDITOR:
Emer McGarry is a curator and cultural leader based in the west of Ireland. She is Artistic Director and CEO of The Model, home of The Niland Collection in Sligo, one of Ireland's most important centres for the contemporary arts.
As a curator Emer has particular interests in neglected histories and esotericism, as well as in urgent contemporary issues that face humankind. She has curated several ambitious group shows such as Portrait Lab, (2022); The Sea Around Us, (2020); The Keeper – To Have and To Hold, (2019); Turbulence (2018); and Ghosts of Other Stories (2016). Emer has worked on major solo exhibitions with many leading Irish and international visual artists including Emma Talbot, Ciara Phillips, Jennifer Walshe, Phil Collins, Mark Garry, Susan Hiller, Elizabeth Price, and Martin Creed.
Emer is considered an authority on the work of Jack Butler Yeats and has curated many exhibitions of his work, including the critically acclaimed retrospective Jack B Yeats; The Outsider (2011) co-curated with Brian O'Doherty.
As a curator Emer has a particular interest in esotericism and alternative spiritualities, and has curated group shows that survey aspects of esoteric thought in contemporary art such as Things go Dark (2014), Psychic Lighthouse (2015) and Ghosts of Other Stories (2016). Emer has curated major solo exhibitions with many leading Irish and international visual artists including Phil Collins, Mark Garry, Susan Hiller, Sean Lynch, Elizabeth Price and Jack Butler Yeats.
Emer has worked in cultural leadership since 2011 when she took up the post of Deputy Director at The Model. She has particular experience in successful change and crisis management; and has served as Acting Director of The Model for two extended periods – from May 2013–September 2014, and again since August 2015 to the current time.
Emer is involved with the National Campaign for the Arts and is on the board of the Tread Softly Festival in Sligo.