WHERE TO STAY
Athlone Is One of Ireland's Top Destinations for Staycations
Northgate St, Athlone,Co.Westmeath, N37 A8X9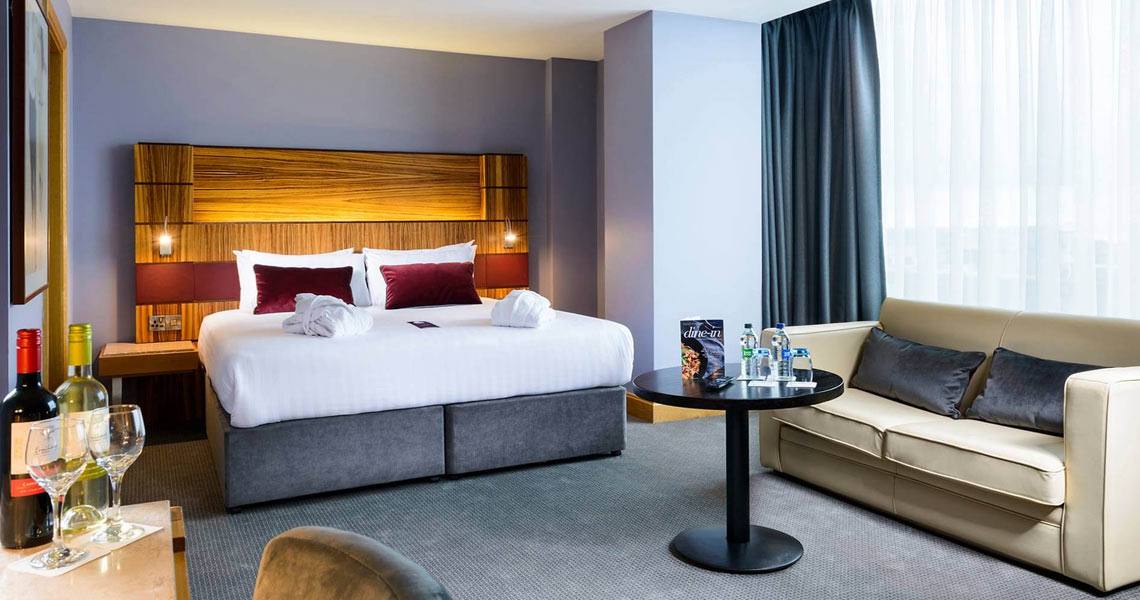 Dream, Explore & Discover Athlone
The stunning 4-star Radisson Blu Hotel in Athlone has a fantastic waterfront location, with scenic views over the river and town.
The hotel's central location is less than 5 minutes walk from the train station, making it the perfect base for your holiday exploration. The spacious bedrooms are what a stay at The Radisson Blu Hotel Athlone is all about – comfort, cosiness and relaxation. 
The perfect place to enjoy your well-earned break, these beautiful rooms feature king-sized beds, large plasma-screen TVs and sizeable en suite bathrooms. If you're visiting with children, you'll feel right at home in the Family Suite, which is furnished with 2 single beds and a separate sleeping area with a king-sized bed. With 128 rooms and suites offering stunning views of the marina and an endless selection of activities, the Radisson is the perfect choice for all the family.
The hotel is within walking distance of many of Athlone's attractions, including the town's modern marina. Watch the river cruises go by from the comfort of the Brasserie bar, or join one yourself by simply booking at reception. Travel back in time with a visit to the 12th-century Athlone Castle, just a 5-minute walk away. A 10-minute drive and you'll be at Glendeer Pet Farm, where kids and adults alike can enjoy interacting with a variety of animals, from llamas to monkeys. A 10 minute drive and you can make a splash at Ireland's largest inflatable waterpark Baysports! Why not bring your bikes or avail of a complimentary set of wheels at hotel reception and explore the newly opened old rail trail Greenway where kids and adults alike can enjoy 42km of fresh air fun. The options are endless here in the Heart of Ireland!
The hotels upscale interior design showcases modern furnishings and décor that incorporates cool, soothing colours within a contemporary theme. Enjoy thoughtful amenities, such as 24-hour room service and access to the on-site Fitness Club, which includes an indoor heated swimming pool, Sauna, Steamroom and Gymnasium. Accessible rooms are also available on request.
Enjoy our all-day dining and dinner menus served daily from 12:30 pm to 9:30pm. Choose from alfresco on our riverside terrace or cosy up in The Brasserie. The Brasserie features the very best of local and Irish produce simply prepared and cooked by a team of talented chefs. From snacks and sandwiches to pizza, pasta, a full kids menu and stunning main courses, we cater to all appetites. If you would prefer a restaurant dining experience our Head Chef, Adrian Caslin, has carefully created a decadent menu which is guaranteed to excite the taste buds. Enjoy a two course meal for €29.95 per person or a three course for just €35 per person. Elements Restaurant opens (Thursday – Sunday).
The food menus change seasonally ensuring they are always current with the very best produce from around the Island. A unique cocktail menu is developed by the award-winning Mixologist, Matheus Gamez, one of the top 20 Mixologists in Ireland. The Brasserie also specialises in Vegan and vegetarian dishes which cater for its international audience so there's sure to be something for all tastes. Enjoy live entertainment every Friday and Saturday night from 10pm – midnight.
For more information and bookings