EAT & DRINK
Ireland's Oldest Pub
13 Main St, Athlone, Co. Westmeath, N37 DW76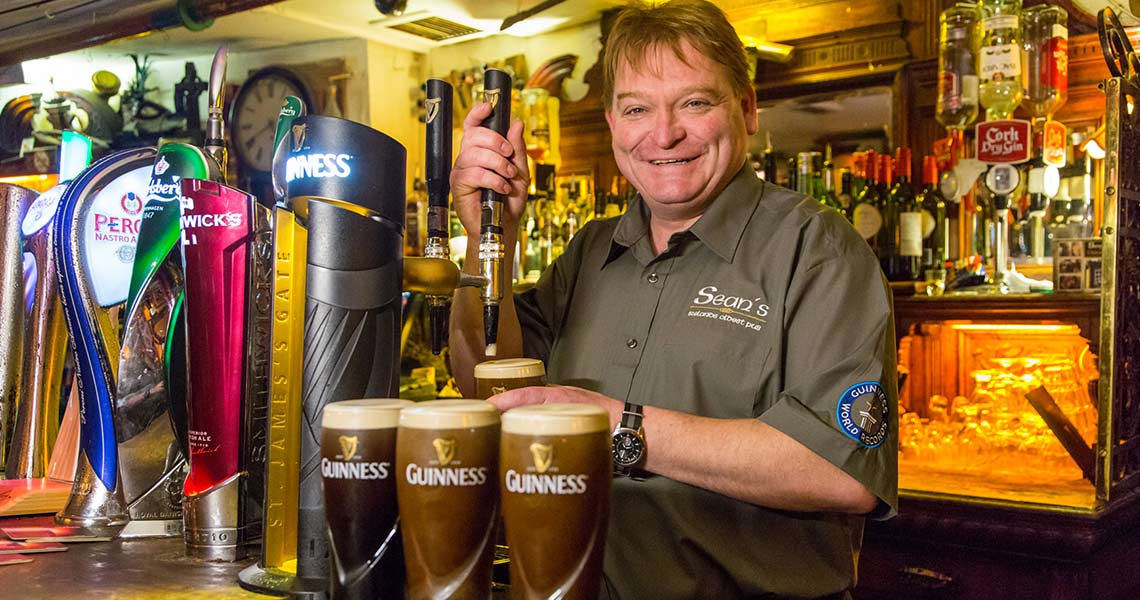 Situated in the Heart of Ireland, halfway between Dublin and Galway, Sean's Bar is part of the life and soul of Athlone, Co. Westmeath.
Sean's plays host to visitors from all around the world. Whether absorbing the history, listening to music, visiting with friends and family, or simply enjoying the perfect pint, the appeal is equally strong for everyone.
Listed in both "25 of the Most Incredible Bars in the World" and "50 Bars to Blow Your Mind" by Lonely Planet, a visit to Sean's is a must! Even more amazing, Sean's Bar was officially recognised by the Guinness Book of Records as Ireland's Oldest Pub.
Seans Bar is a truly distinct Irish bar, not only because of its history of great service, but also because of the unmistakable smell of hops and barley and the lighting that's not too bright, but warm enough to block out a dark night or indeed morning. When visitors walk inside the door of the old pub, they are immediately encapsulated by the glow of the fire. And the nooks and crannies of snugly fitting seats. The walls and wooden beams are covered with memorabilia, maps, letters, poems and nautical charts from Ireland's past. Because of this, In Seáns bar, storytelling is indivisible from hospitality
With music 7 nights a week, live bands, flowing pints, an electric atmosphere, and that Good Ol' Irish Craic, no wonder Sean's Bar has been the chosen destination for many for over 10 Centuries.
If you visit the pub during the day, you can take part in Sean's tour and historical talk Hosted by Timmy Donovan. Visitors will be welcomed by the open turf fireplace and given a detailed history of the pub dating right back to 900 AD. Daily tours start from 11 am.
For more information and bookings