Blog
Check out our Choice, Check in to Excellence
Stay in the city and indulge in some retail therapy, spa treatments and cocktails or escape to the outskirts for a luxurious resort taking in views, golfing or enjoy some peaceful R&R.
1. Lakeside Luxury at Hodson Bay Hotel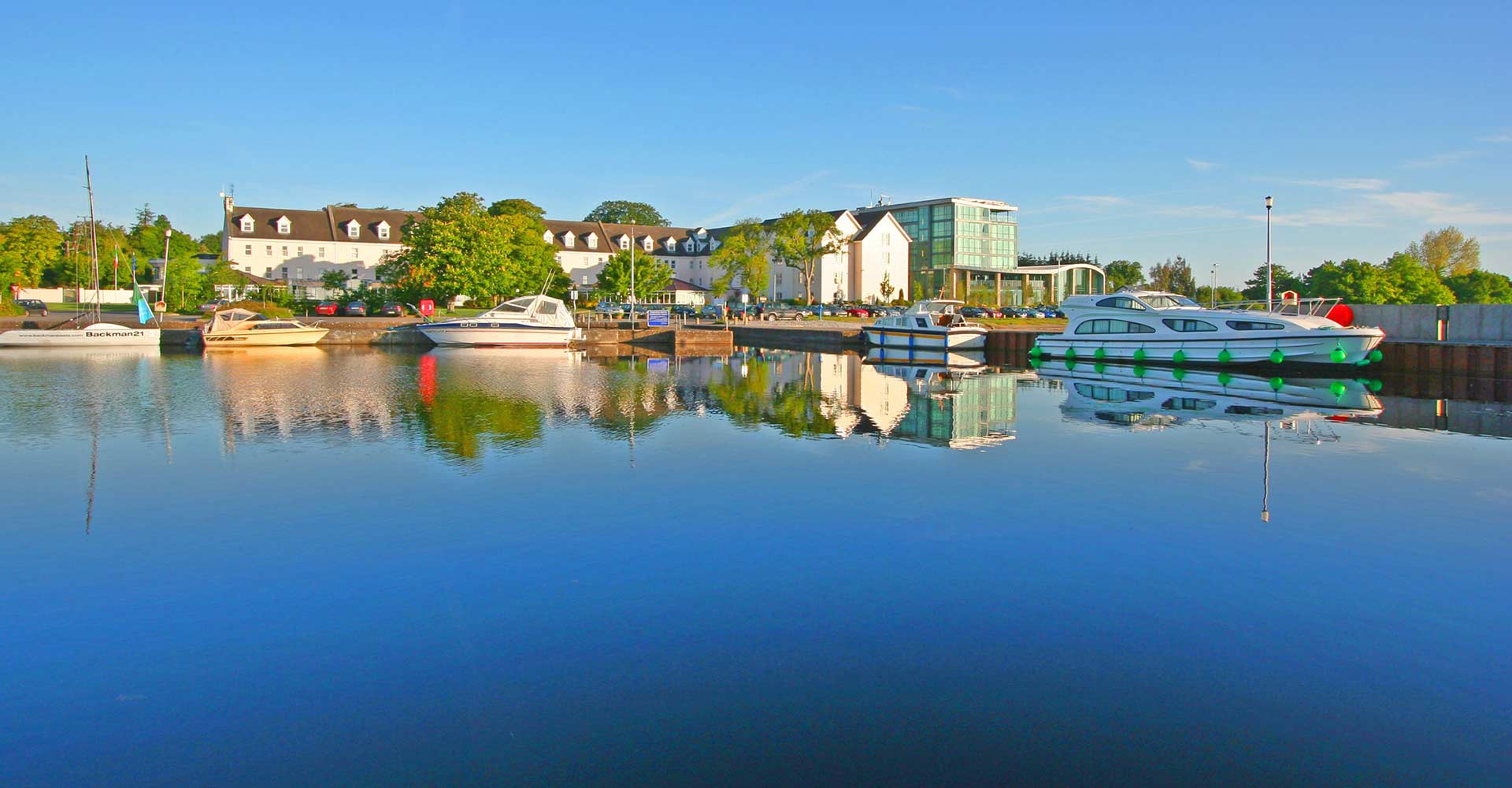 Exquisite lakeside setting, superb rooms, a vibrant waterfront and premium spa pampering – it all comes together beautifully at the Hodson Bay Hotel. This well-known four-star lakeside resort is the perfect balance of peaceful setting, central location and top facilities.
The hotel is tucked into the shoreline of Lough Ree, with incredible panoramic views across the lake and countryside – yet you're just a short drive away from the beating heart of Athlone. Effortless comfort and timeless style define the beautiful rooms here, while the spacious Family Rooms are the perfect base for your family adventure. (You're also right on the doorstep of Bay Sports with its floating waterpark for endless freshwater fun!)
There are plenty of dining options here – from the international flavours of L'Escale Restaurant and relaxed Irish pub meals at the Waterfront Bar to classic feasts at The Waterfront Carvery and casual outdoor dining at No. 52. To complete a tranquil getaway, the hotel features one of Ireland's best spas – to pamper you with luxury treatments and top-class facilities including a 20-metre heated pool.
2. Relaxed Elegance at the Radisson Blu Hotel, Athlone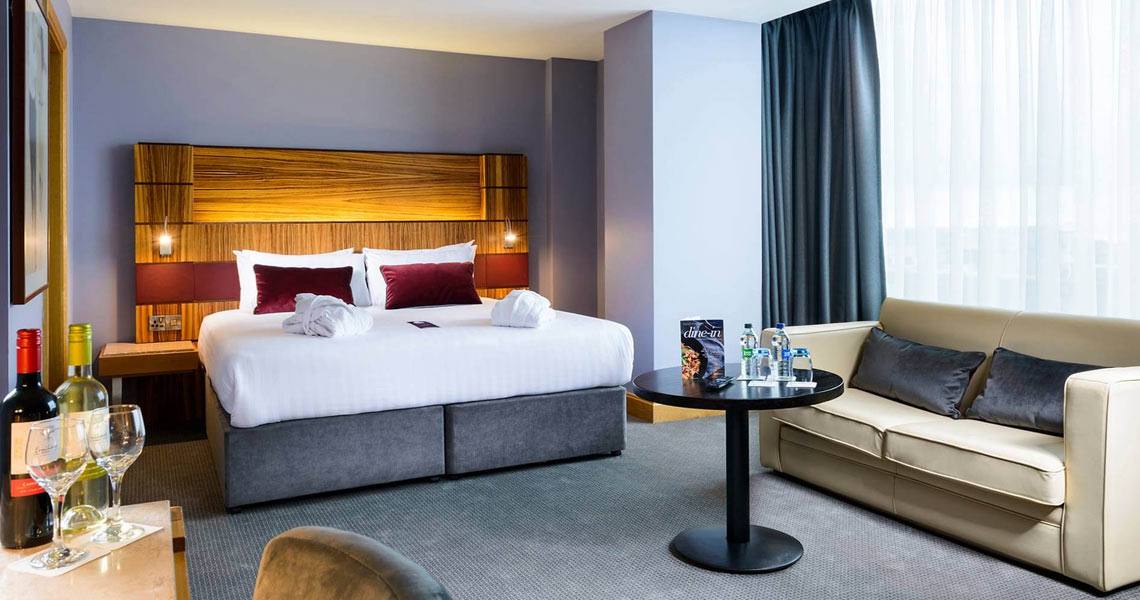 This stunning 4-star hotel has an incredible waterfront location yet is within walking distance of many of Athlone's attractions, including the marina. Here, comfort and relaxation meet luxury and class. The 128 rooms feature king-sized beds, large plasma-screen TVs and beautiful ensuite bathrooms, complemented by modern décor and a clean contemporary feel.
You'll love dining at the Brasserie here – a modern Irish restaurant showcasing the best of local and Irish produce, creatively prepared by the hotel's top chefs. To take advantage of each new season and available produce, the menu changes regularly, so there's always something new to enjoy, including many vegetarian and vegan options. For a restaurant dining experience, Head Chef Adrian Caslin welcomes you to the Elements Restaurant and its outstanding menu of 2- and 3-course meals. And if cocktails are your thing – you're absolutely in the right place, with award-winning Mixologist Matheus Gamez, one of Ireland's top 20 Mixologists, serving up some incredible creations.
To complete your experience, the Radisson has an onsite Fitness Club.
3. Sheer Bliss at the Sheraton Athlone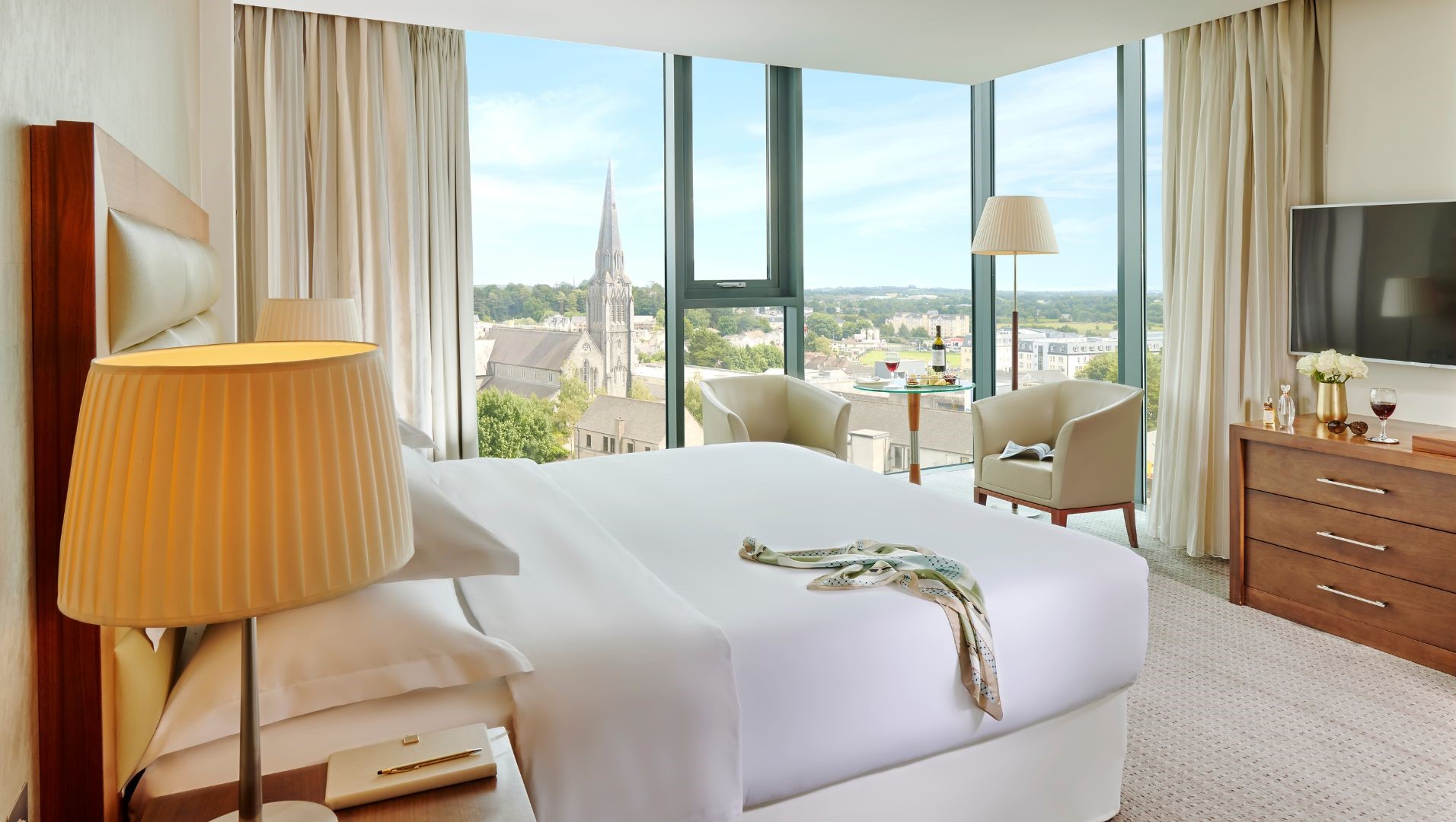 Experience Athlone from a different angle at the Sheraton Athlone. Here, from the hotel's impressive tower, you're treated to an incredible bird's eye view out over the Shannon where the river meets Lough Ree. The Sheraton also places you in the middle of Athlone's action – from trendy foodie spots to superb shopping and vibrant night life, so no driving required.
Rooms at the Sheraton are light and spacious, offering The Sheraton Signature Sleep experience®, and some rooms have beautiful floor-to-ceiling windows for unbeatable views. The hotel features dining at La Provence brasserie-styled restaurant, with its crafted, signature menu that brings together the finest locally sourced produce and seasonal ingredients. The hotel also has an urban spa, 3 swimming pools and a choice of 11 conference suites.
4. Everything of the Best from Athlone Springs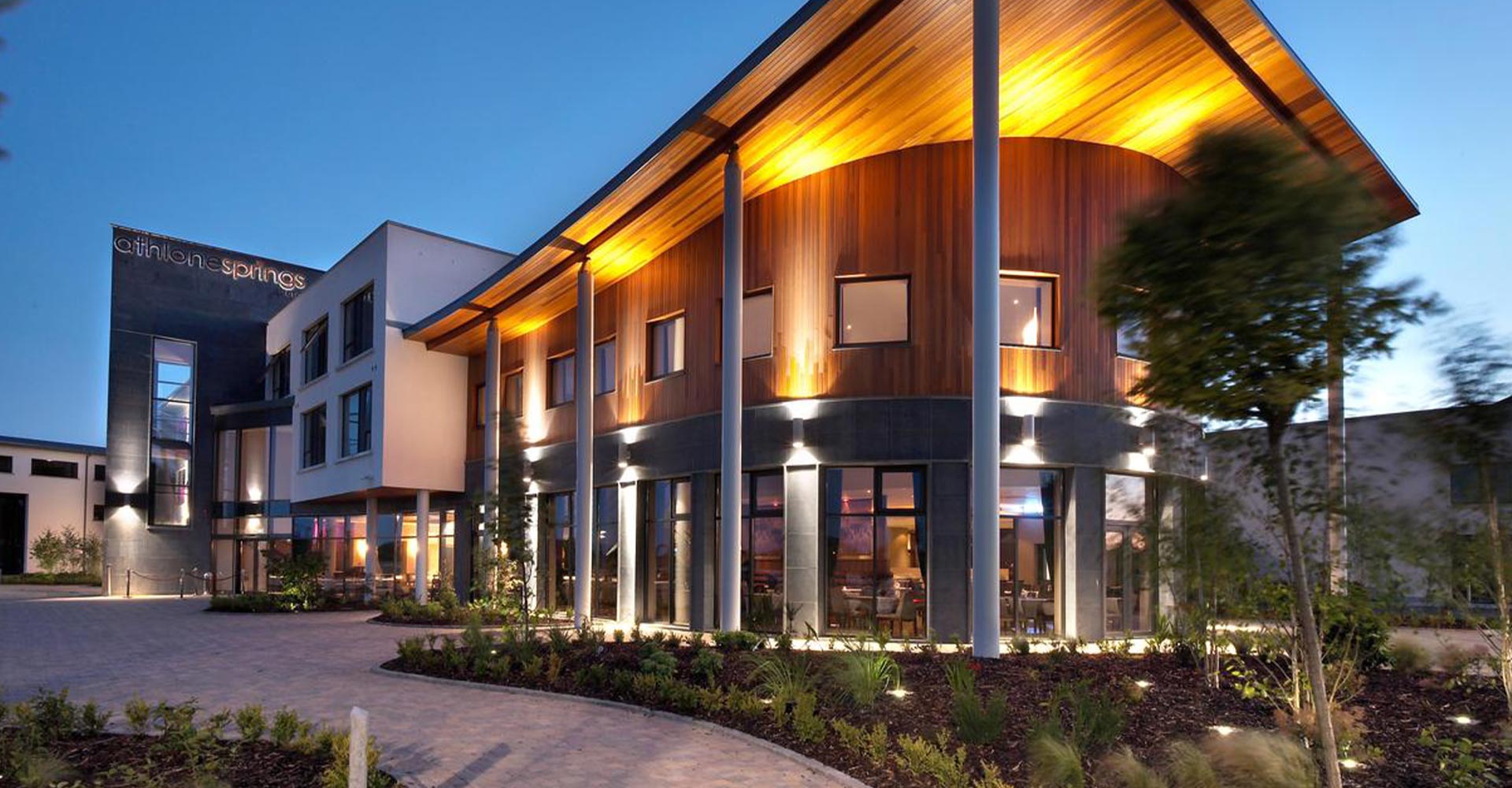 Conveniently situated on the outskirts of town, Athlone Springs really is the kind of hotel that ticks every box. The welcomes are warm, the bedrooms bright and spacious, and the guest care is quality. You can even treat yourself and have breakfast in bed! There's a great range of room options – from Classic Double Rooms and Classic Family Rooms to Executive Rooms and Presidential Suites.
The hotel offers enjoyable and comfortable dining at the Cedar Bar & Brasserie – an intimate, personal and relaxing restaurant serving high quality, tasty food together with a great cocktail menu. A new addition is the Secret Garden which is perfect for magical outdoor dining.
The hotel also includes a stunning leisure centre with state-of-the-art gym, fitness studio and 20 metre swimming pool.
5. A Traditional Welcome at Shamrock Lodge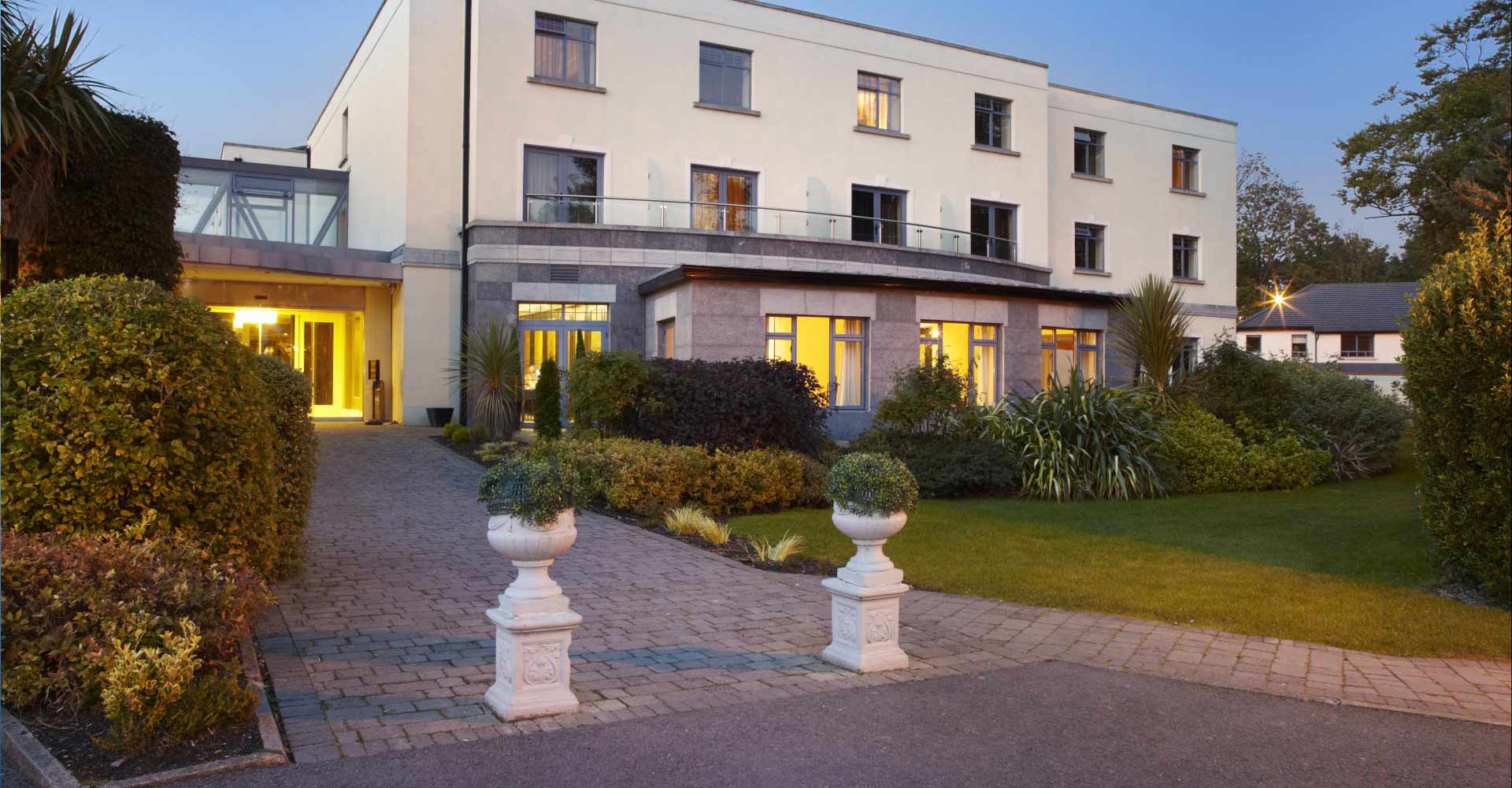 Princess Grace of Monaco, Prince Rainier and Queen Salote of Tonga. Former President of Ireland Mary Robinson and Former Taoiseach Jack Lynch. They all have one thing in common – they were welcomed as guests at Shamrock Lodge. So, you'll be in great company…
This family-run hotel is beautifully set in impressive gardens on the Left Bank of the town and is just a lovely 8-minute walk to the River Shannon and Athlone Castle.
The house began its life as the home of Michael Monks in 1814 and was established as an hotel in 1951, now run by the Colgan Family. As a traditional hotel with history, a stay here is all about warm Irish hospitality, excellent food, superb accommodation and lots of extra touches to make your stay special. The hotel offers 40 Deluxe and Superior bedrooms with garden views and balconies as well as 4 self-catering apartments. The Lodge Bistro is well-known and loved for its exceptional bar food and classic Irish food and serves a delicious traditional carvery on Sundays.
6. Comfortable & Convenient Creggan Court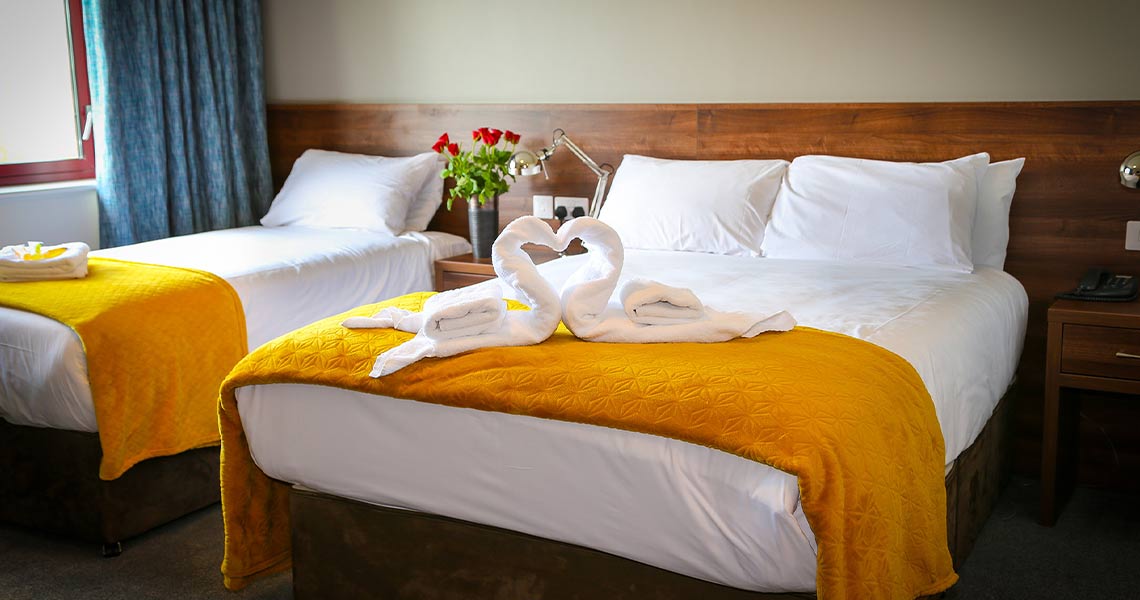 Stay in comfort and style just 2 miles from Athlone town centre, at Creggan Court. Ideally located close to many attractions and amenities, this hotel is especially loved for its great breakfasts and quality service.
The hotel offers 70 exceptionally comfortable bedrooms, with Single, Double, Twin and Family options. All rooms have free WiFi, cable tv, direct phone line, hairdryer and tea/coffee facilities. There's ample parking and you have the option of a laundry service.
With its varied choices, the hotel's Granary Bar is great for lunch and evening meals – and it's also a fabulous spot to take in some live music or watch the big match. For a fuller dining experience that is still relaxed, choose the hotel's new Lemon Tree Restaurant. Enjoy a 4-course menu of both international and traditional cuisine and featuring local and seasonal produce.
PLUS! The Creggan Court Hotel is pet friendly. A selection of rooms on the ground floor are dedicated to guests with pets and there is no additional charge for bringing your fur babies!
7. All the Nightlife at Prince of Wales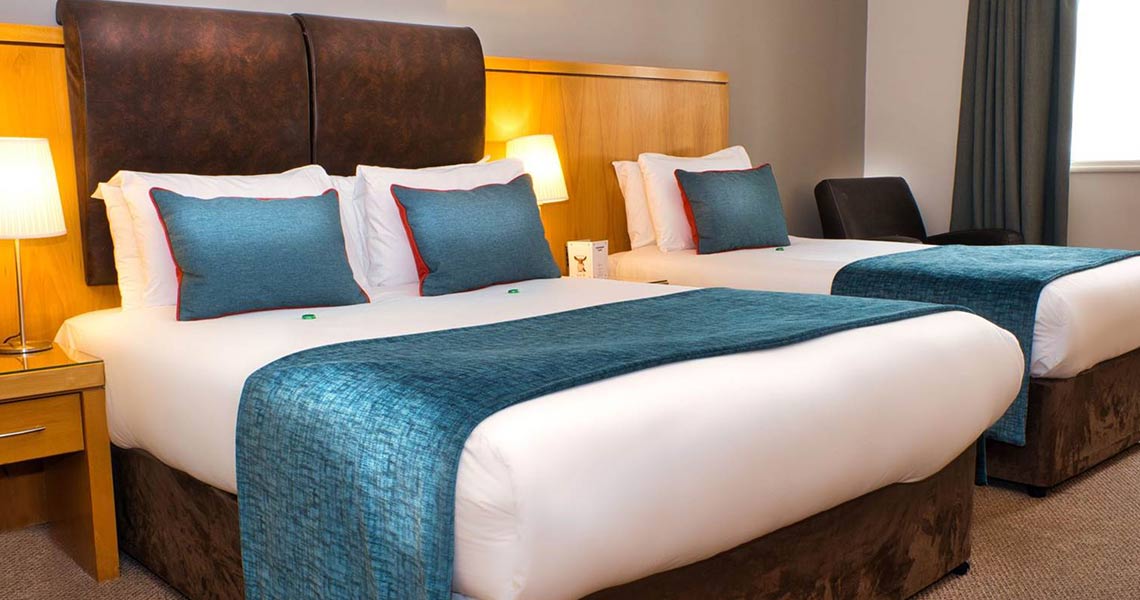 Welcome to the luxury, quality and comfort of the Prince of Wales Hotel – a 4-star hotel located near the centre of Athlone offering easy access to all the sights, including Athlone Castle and St. Peter and Paul's Church.
All bedrooms are fully equipped and air conditioned and offer in-room entertainment and high-speed internet access.
Dining at the hotel is in the elegant Prince Bar – vibrant, sophisticated and serving breakfast, lunch and dinner 7 days a week and with a late bar at the weekends. On the menu is fresh pasta, succulent steaks, the freshest salmon and crisp and refreshing salads, while low-key lighting and cosy, open fires make this bar a favourite retreat, all year round.
The hotel also offers The Venue – an intimate, late-night entertainment experience in true Athlone nightlife style. It's about sophisticated setting and energetic atmosphere in equal measure! And don't forget Karma Nightclub, for clubbing at its best!
8. Comfort & Quirk at Glasson Glamping Farm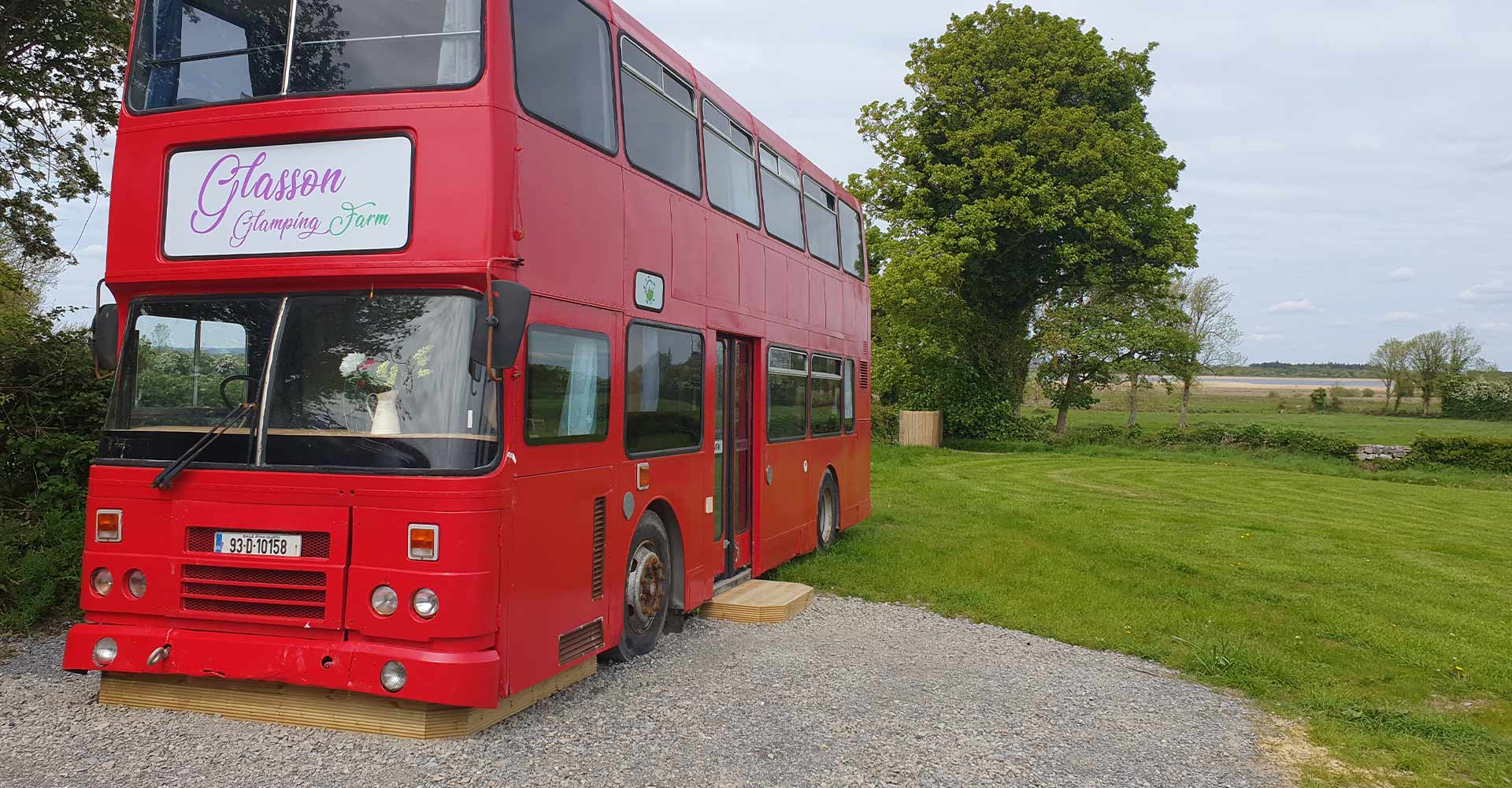 If a less formal approach to getaways is your thing, you love the adventure that camping brings but you also appreciate some comfort and bit of quirk – then Glasson Glamping Farm needs to be top of your 'to stay' list.
Peaceful and secluded, family run and with excellent facilities, Glasson Glamping is situated 20 minutes from Athlone and is a beautifully picturesque, working, 5th generation family farm that combines a commercial business with an environmentally sensitive approach. The accommodation options here are plentiful – ranging from the stunning Lakeview Apartment with fully fitted kitchen, to two authentic double-decker buses complete with 1 double and 4 single beds upstairs, onboard flush toilet, and living and dining downstairs. It's fun vintage style all the way, with the comfort of cosy central heating.
The Lilac Wagon is a large retro caravan with timber panelling plus a converted vintage horsebox that houses a private bathroom. Then there's the Shepherd's Hut, combining traditional design with spacious fully fitted interior.
To complete your stay there's a Glamper's Kitchen, shower and washrooms, game shed and plenty of parking. This spot is also ideal for families with small kids as all facilities sit safely within the farmyard boundary.
9. Luxury Lives at Glasson Lakehouse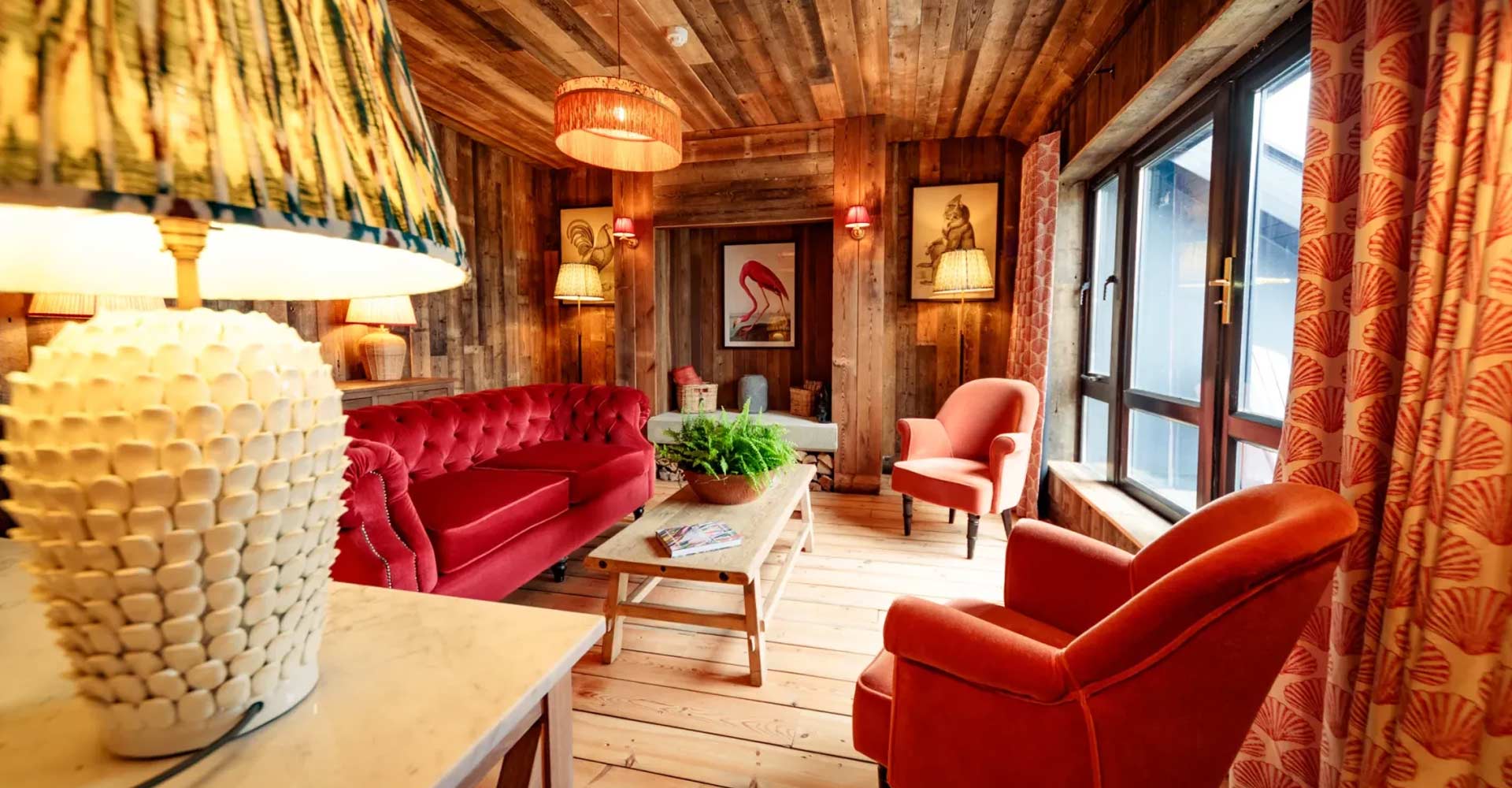 18 Minutes from Athlone and just outside the picture-postcard-pretty village of Glasson sits Glasson Lakehouse – a destination hotel and golf resort. Here, on the shores of beautiful Lough Ree, you can indulge in the 4-star luxury of beautifully appointed rooms. From spacious King rooms to rooms with a lakeside view, Family rooms, outdoor cabins and even dog-friendly rooms, the hotel is shaped for the holiday you want. And you're right on the doorstep of all that the incredible Hidden Heartlands has to offer.
The hotel is known for its popular Bonnie's Restaurant, serving breakfast, lunch and dinner daily. The menu's emphasis is on fresh, local produce and seasonal fare. Sit at the bar and enjoy panoramic views of the lake, then indulge in your choice of signature dishes, from Argentinian steaks to the freshest pan-fried sea bass.
The resort is also known for its award-winning 18-hole parkland golf course, designed by Ryder Cup star, Christy O'Connor Jnr. Completing your luxury getaway is the superior-quality Brooks & Co Spa, offering the ultimate self-care journey and premium treatments.
10. Effortless Style and Warmth at The Wineport Lodge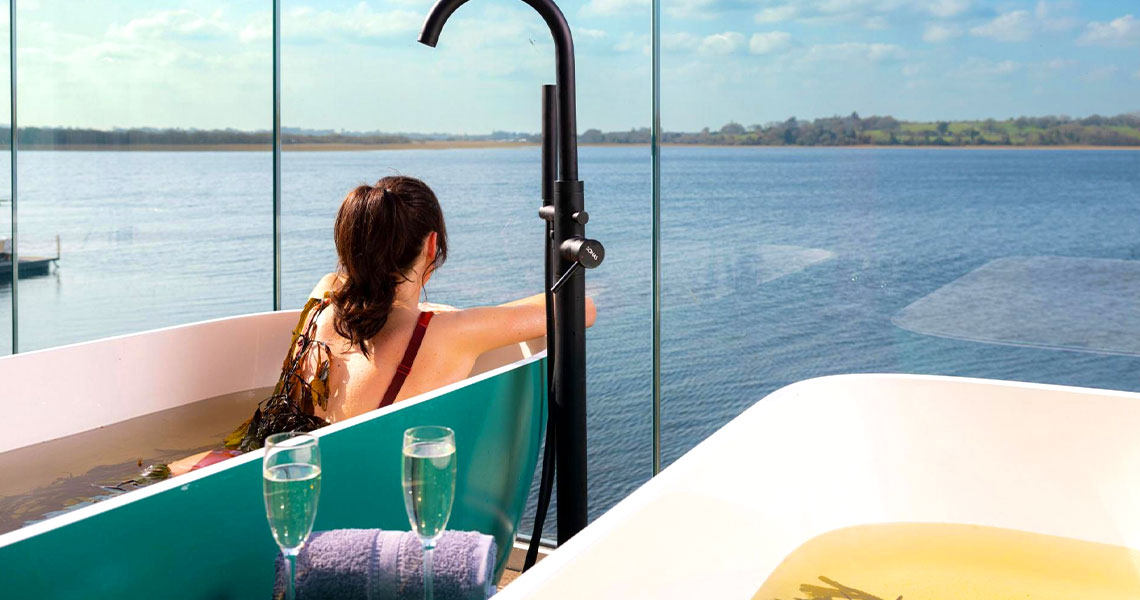 Three words define this cosy, country spot: warmth, passion and luxury. Beautifully set amongst splendid water and native woodland, there's a unique personality to the 4-star Wineport Lodge. It's a space that draws you in and begs you to linger and soak up the views of the lake waters and beyond. Right away you'll feel your hosts' commitment to, and love for, what they do: nothing is too much trouble to ensure your stay is magical and memorable.
On the shores of the inner lakes of Lough Ree on the River Shannon, Wineport Lodge is described by Ireland's Blue Book as 'a back to nature bolthole with a little touch of luxury'. The hotel offers elegantly finished Lakeview Rooms and Suites with king size bed comfort, while the Lodge's Champagne duplex suite features a spacious mezzanine floating bedroom with bathroom suite complete with monsoon shower and cradle bath.
Experience for yourself why the Lodge's restaurant attracts foodies from far and wide, with its unpretentious approach to imaginative dining. Then let the world slip away at the Lodge's Cedarwood Spa, an intimate sanctuary of pampering and personalised treatments.
Wineport Lodge also has more than its fair share of awards, including Irish Independent Reader Travel Awards: 2022 Ireland's Top 10 Hotels, Ireland's Best Breakfast and Ireland's Sexiest Bedrooms.