Blog
So, it's your first time in Athlone…
What are the must-sees? What are some non-negotiable attractions that capture the heart of the place? The places you'll love in a heartbeat? Well, here you go – from history to hops, here's 6 top attractions you definitely and absolutely won't want to miss…
Experience the 3D History of Athlone Castle
First built in the 13th century as a timber fort, Athlone Castle is an Anglo-Norman stone stronghold on the banks of the River Shannon. Built for King John and dating from 1210, the Castle was of great geographical and strategic significance because it defended the crossing point of the Shannon River. During the Norman advance into Connaught, the Castle also served as a bridgehead.
Today you can enjoy an incredible immersive, 3D experience that brings to life the Castle's story – with 8 fascinating galleries chronicling the exciting and dramatic history of the town. From interactive exhibitions and touch screen animations to ancient artefacts and beautiful exhibits – you'll be transported back to times of battle and bloodlust, conquests and larger-than-life characters.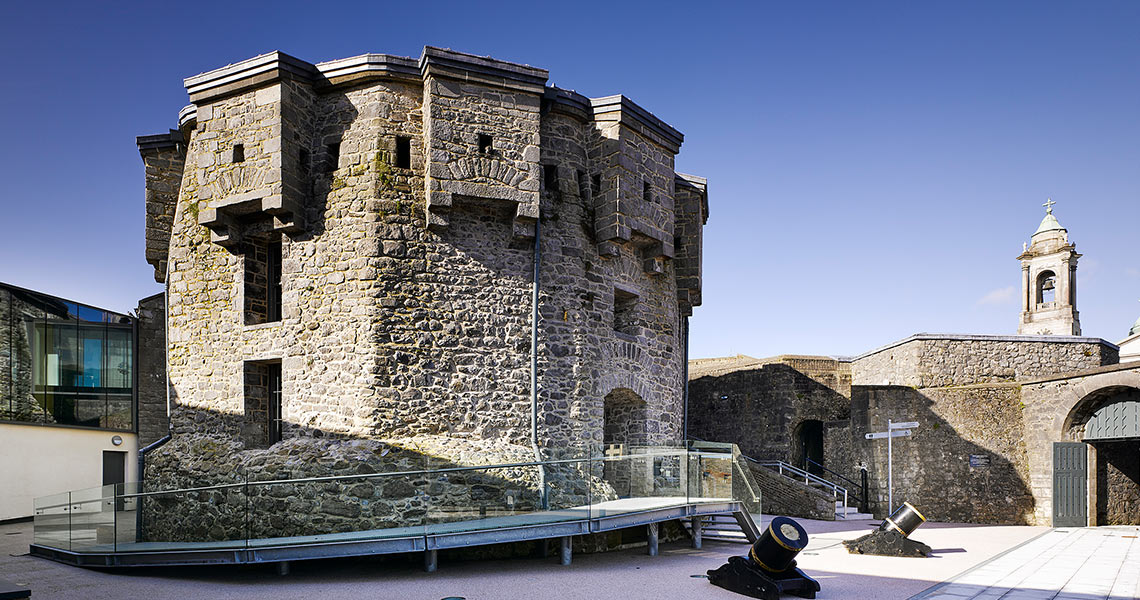 A Sean's Bar Historical Tour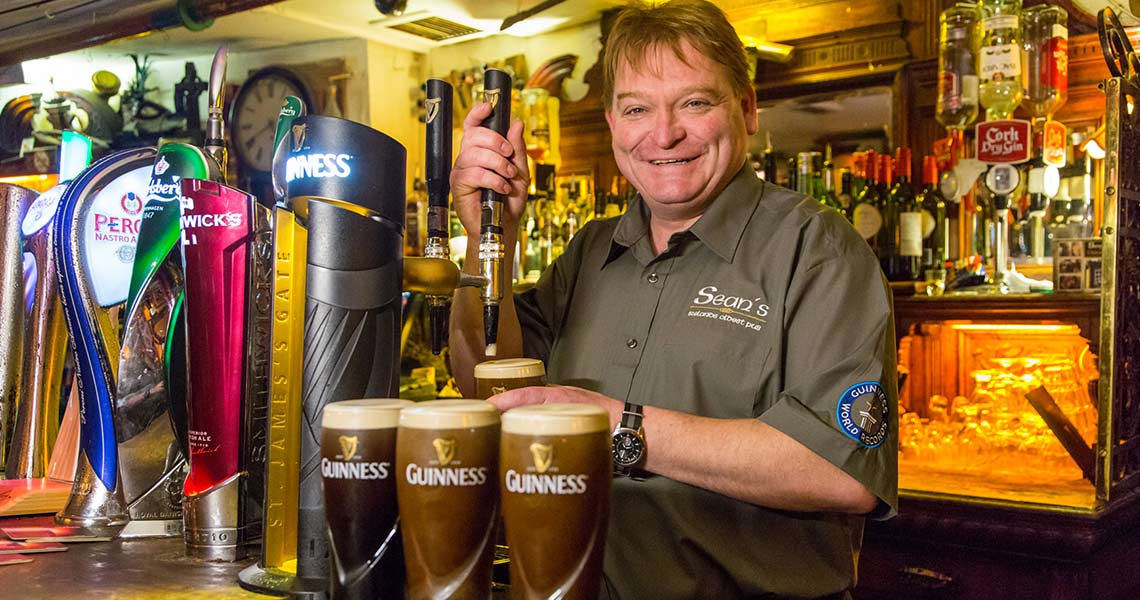 Find out the secrets and stories, the history and the heroes of the famous Sean's Bar – Ireland's Oldest pub! Whether you're in search of the perfect pint, a genuine slice of traditional Irish life, or you're ticking it off your bucket list – you'll quickly see why Sean's Bar is one of the best-loved pubs in the world, officially recognised by the Guinness Book of Records as Ireland's Oldest Pub. It's also listed in both '25 of the Most Incredible Bars in the World' and '50 Bars to Blow Your Mind'.
The history of Sean's Bar goes right back to the year 900 – confirmed when renovations carried out in 1970 revealed walls of wattle and wicker along with some ancient coins.
The Bar has daily tours and historical talks throughout the year – hosted by Timmy Donovan who has been at Sean's for more than 40 years. You'll be welcomed by the open turf fireplace and hear about the fascinating past of this famous watering hole. Timmy will also tell you about the origin of whiskey in the Lough Ree region – when the monks brough back the secrets of Uisce Beatha and distilling and perfected the art of making the spirit in their monasteries. Sean's Bar has gone on to craft its own unique blend of grain and malt whiskey, matured over time in bourbon casks. So, settle in, share a glass of this liquid gold (or Irish coffee), and enjoy the stories…
Take a Fascinating Stroll with Athlone Walking Tours
Perhaps the best way to get a grasp of Athlone in a nutshell is to hook up with an Athlone Walking Tour of the town: a brilliant opportunity to discover a millennium of Athlone's rich history and culture while you enjoy a leisurely and pleasant walk.
Part of Athlone's personality and history is that it straddles two counties, two provinces and two parishes. The town has immense historical significance and cultural resonance – and this tour encompasses it all in one. Heading up each tour is Vincent, a native of Cornafulla, and a man with a real passion for the Heartlands that he loves to share with visitors and locals alike.
As you walk, you'll hear all about the history, folklore, landmarks, famous residents and stories of Athlone – and stop off at a string of key attractions. Hear about the colourful past of Ireland's oldest pub, Sean's Bar. And learn about the history of the Custume Barracks and its links to Napoleonic France, Nazi Germany and the American Civil War.
An Athlone Walking Tour really is one of the most personal and comprehensive ways to get to know the town and is excellent value for money. Tours are available throughout the year and leave from Athlone Castle.
Take a Viking Tour cruise to Clonmacnoise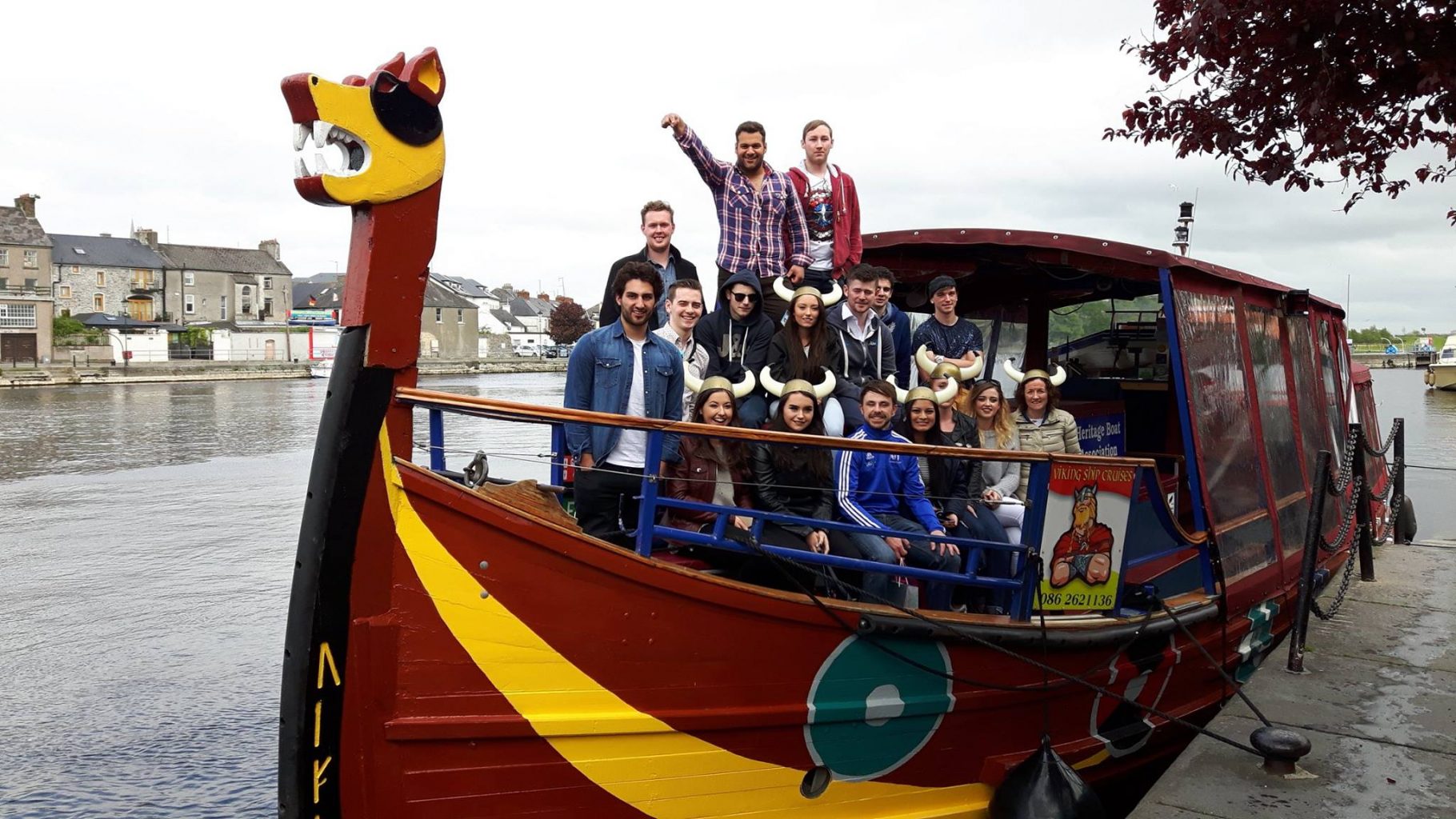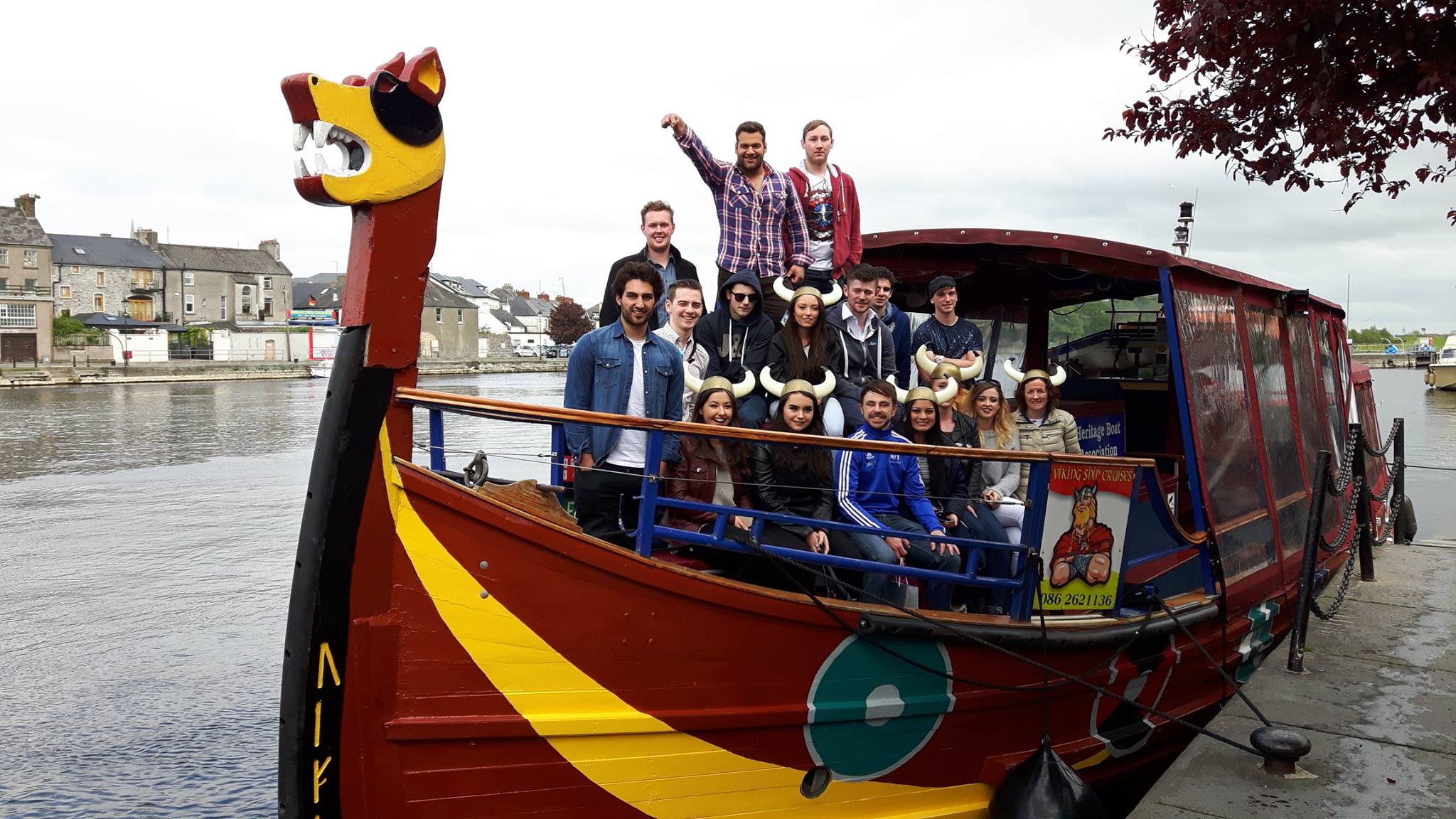 Take a trip back to where it all began – at Clonmacnoise. Clonmacnoise is an ancient, holy site and one of the oldest and most important early Christian settlements in Europe. Beginning its life as a simple monastery, it grew to become one of Ireland's great seats of learning and a place of pilgrimage. Scholars came from all over Europe to study at what is known as 'Ireland's first city,' while the High King of Ireland was also buried there in the year 915.
What could be more befitting for a tour of this holy place than journeying on board a Viking ship? 'Viking Mike' of Viking Tours will welcome you as his guest on board the Viking 1 – a 21-metre-long replica Viking Knarr and recognised heritage boat that dates to 1923. You'll cruise down the Shannon, enroute to Clonmacnoise, while Mike shares his knowledge of the Viking world – its kings and battles, treasures and legends. At the same time, you'll have an up-close experience of the natural beauty of the Shannon – its extraordinary wildlife, birdlife and landscape.
Toast Craftsmanship at Dead Centre Brewing
No Athlone trip is complete without a trip to the modern-classic craft brewery – Dead Centre Brewing. This is a place of beautiful copper-clad brewing tanks, handcrafted, home brew beers on tap, a laid-back vibe and a serious passion for great beer.
Savour craft brews like Maroon Oatmeal IPA, made using Kilbeggan Organic Oats, or the sleek and shiny Disco Ain't Dead Glitter Beer, brewed on a base of Pale Malt, Munich Malt, Wheat and Oats. There's lots of Limited-Edition specialties – like the Moondust Coffee Porter – brewed with a blend of Sumatran, Colombian and Brazilian coffee beans to produce a strong flavour with a hint of chocolate and caramel. Wow!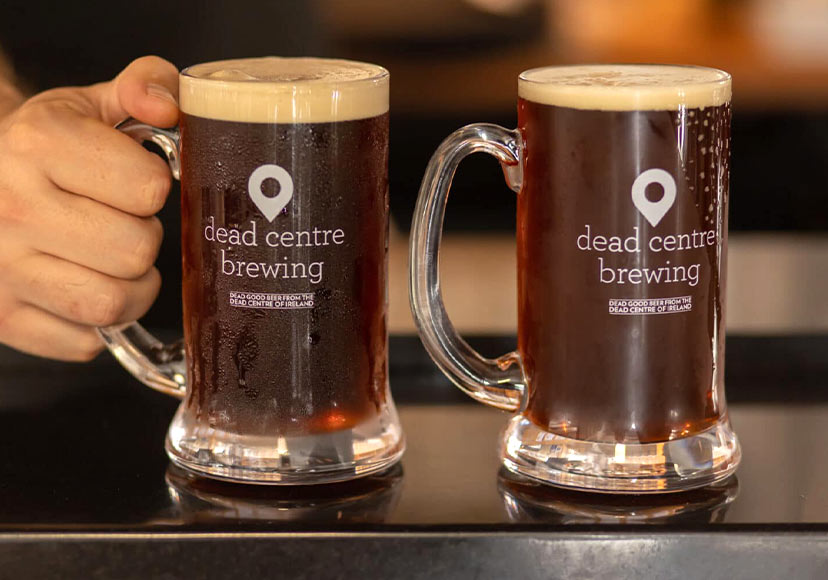 Enjoy Animal Magic at Glendeer Pet Farm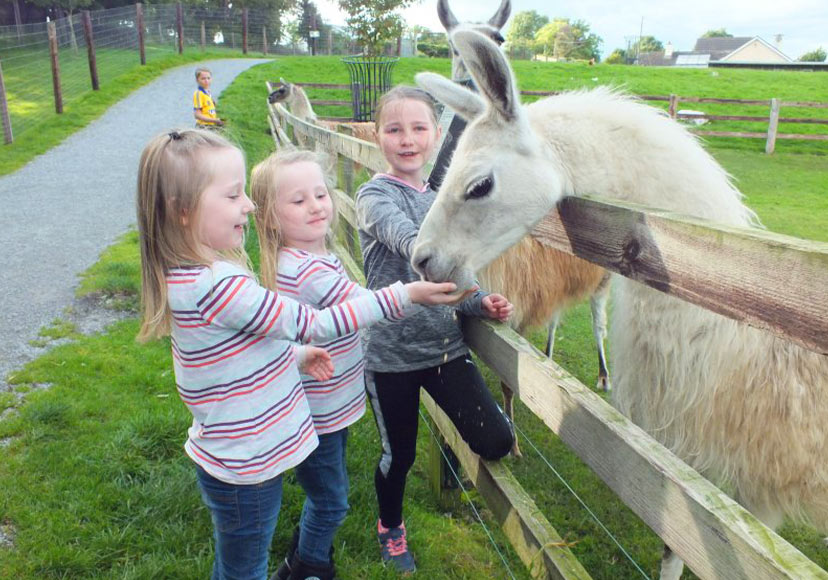 Here's one the whole family will take to heart! Set on 12 beautiful acres of open farmland, Glendeer Pet Farm invites families to experience over 50 species of animals in a safe, carefree and picture-perfect environment. Kids will love petting the baby chicks, rabbits, guinea pigs and bearded dragons, while also experiencing some of the more exotic residents like monkeys, wallabies, parrots and meerkats.
Bring along a packed lunch and picnic amongst the animals or visit the coffee shop for delicious treats. The fun of the Farm's zipline, obstacle course, maze, fairy trail and hobbit village complete your day out, while there's also a sand barn and soft play area for smaller children. Glendeer Pet Farm is an all-round winner!