EAT & DRINK
Authentic taste of Lebanese cuisine
6 Bastion St, Athlone, Co. Westmeath, N37 KX23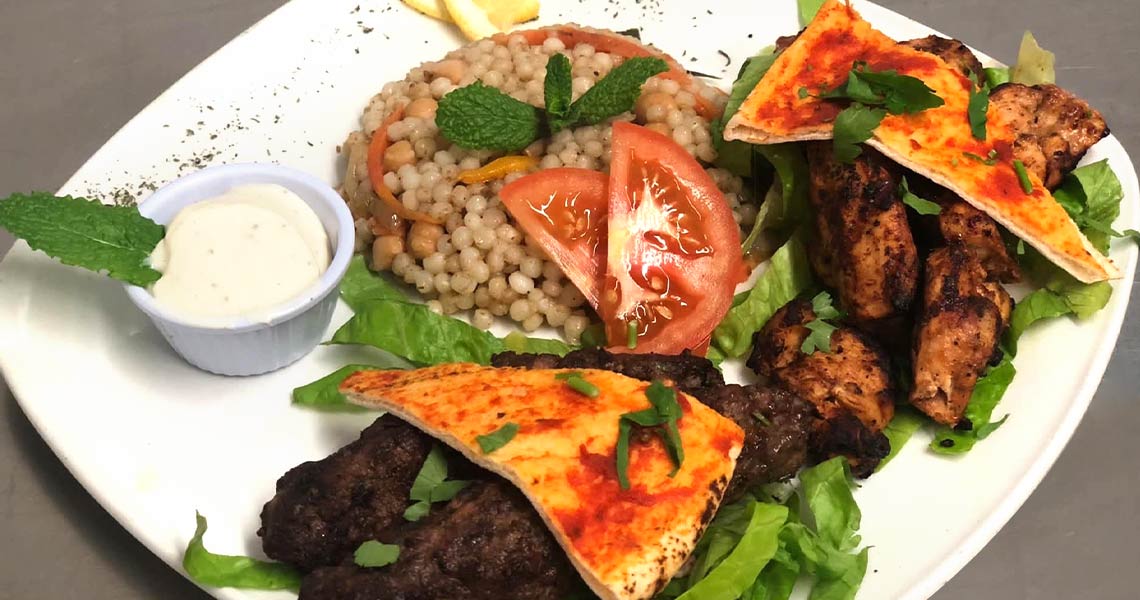 Welcome to Al Mezza Restaurant where you can enjoy authentic taste of Lebanese cuisine.
Highly considered a Mediterranean delicacy of fresh recipes with a flavoursome combination of herbs and spices.
Al Mezza restaurant is lucky to have great access to fine local produce and all meat used comes from the local butcher, the fish from Flynns of Athlone, 5 Ashley Crescent, Athlone and the vegetables are sourced from Beechlawn organic farm, Plasog na Bhfea, Beal atha na Slua, Co. Gaillimhe.
As everything is prepared and cooked on the premises it may take a little longer than expected but as they say good food is worth the wait. All the food at Al Mezza restaurant is free from M.S.G / Dairy products and eggs and for the authentic ingredients all spices come from Lebanon.
The cuisine of Lebanon is the epitome of the Mediterranean diet. It includes an abundance of starches, fruits, vegetables, fresh fish and seafood animal fats are consumed sparingly, poultry is eaten more often than red meat and when red meat is eaten it is usually lamb it also includes copious amounts of garlic and olive oil often seasoned by lemon juice nary a meal goes by in Lebanon that does not include these ingredients most often foods are grilled, baked or sauted in olive oil butter or cream is rarely use other than in a few dessert vegetables are often eaten raw or pickled as well as cooked while the cuisine of Lebanon doesn't boast an entire repertoire of sauces if focuses on herbs, spices and the freshness of ingredients.
The assortment of dishes and combinations are almost limitless. The meals are full of robust, earthy flavours and like most Mediterranean countries much of what the Lebanese eat is dictated by the seasons. Al Mezza restaurant is the perfect venue for all your special occasions either family or romantic. Outdoor seating, booster high chairs and kids menus ensure there is always something on the menu to suit every taste. What better way to accompany fine food than with a perfectly matched wine. Al Mezza restaurant have an extensive wine list from around the world and specialise in Lebanese wine.
For more information and bookings