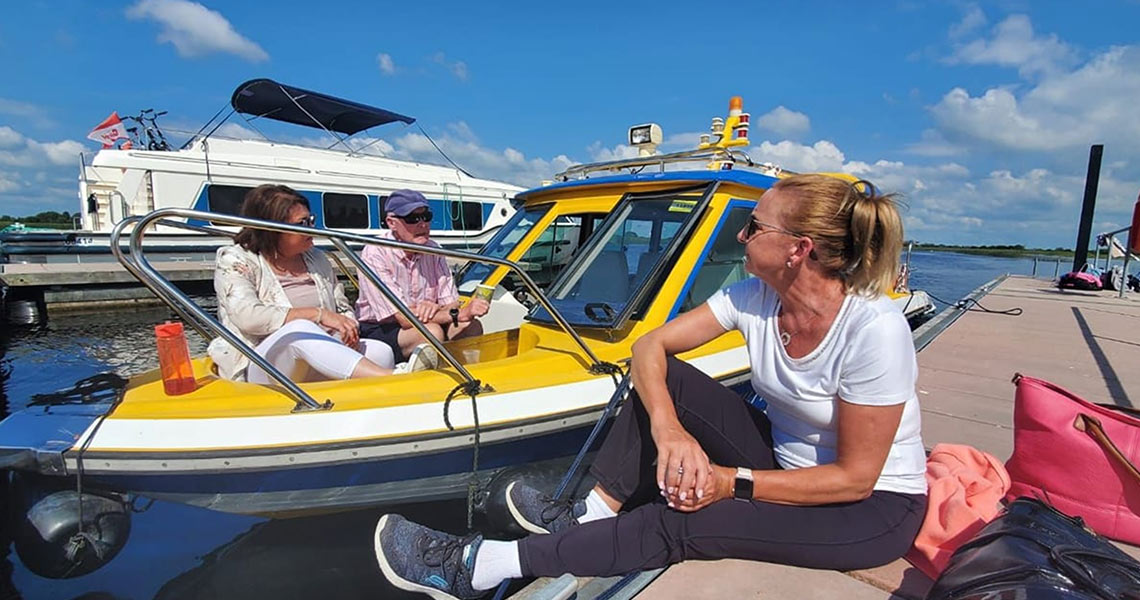 Explore the mighty River Shannon and historical Lough Ree with a boat tour to remember.
Qualified National Tour Guide, Pearse Connell offers an on-water taxi service and guided tours by boat from Athlone.
Visit Clonmacnoise, meander the islands of Lough Ree or just soak up the breathtaking beauty of the River Shannon. Pearse also operates a swift transport service to and from hotels and amenities on the Shannon and inner lakes of Lough Ree such as Glasson Lakehouse, Wineport Lodge and more, and organizes photo shoots of weddings for guest at the various hotels.
For Private hire, Enjoy a cruise to Clonmacnoise south of Athlone on the River Shannon. The boat will be moored up under the ancient castle in Athlone and from there the majestic trip will start through the lough gates onto Clonmacnoise and return to Athlone finishing with a drink in Sean's Bar, the world's oldest bar. Heading south passing the meadows & callows on the west side where you will see native wildlife such as: Moorhen, Little Grebe, Mute Swan, Coot and Grey Heron.
The peat bogs which surround the river are home to an abundance of flora and fauna, and are preserved as a natural habitat for the now rare corncrake.
Clonmacnoise is an ancient monastic site and approaching Clonmacnoise by river is simply majestic.
A walk amongst the peaceful stone ruins of this famous place will conjure images of the saints and scholars of Ireland's renowned Golden Age of learning.
Pierce also offers a private boat tour of Athlone, the River Shannon, and Lough Ree, which will give victors a great insight into the history of the area, and the beauty the tranquility of the majestic River Shannon.
Departing Athlone , the town established around 1000 Ad , this tour starts with the 11th. century Athlone Castle, progressing to the Custume Army Barracks known in the 1800's as the Victorian Barracks, under the white railway bride built in 1851, the tour then leaves the town to explore up river.
With the "callows" on both side, the meaning in Irish " water meadows, visitors see nature at its best, wild flowers, birds and swans nesting, cattle grazing, the colors, the smells – Irelands very special hidden heartlands.
When approaching Lough Ree, " The Lake of the Kings", it's like opening a history book, 54 islands, monastic sites, Christianity, through to the turmoil and havoc the Vikings, Normans and Cromwell visited on the area.
The tour passes Hare Island, Coosan Point and follows a very narrow entrance into the peace and quietness of Coosan Lough, a time to turn off the boat engine and listen and look. Peace.
For more information and bookings