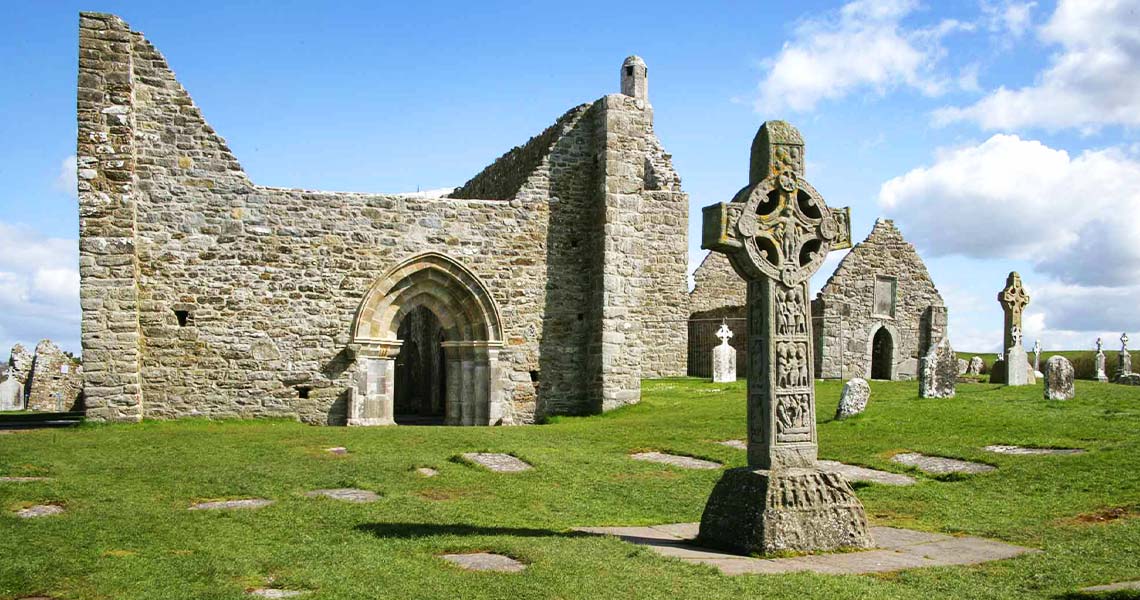 One of the most famous monastic sites in Ireland, Clonmacnoise is located along the River Shannon, near the village of Shannonbridge, County Offaly.
A walk amongst the peaceful stone ruins of this famous place will conjure images of the saints and scholars of Ireland's renowned golden age of learning.
In the 6th century St Ciaran arrived to build a church on the banks of the mighty Shannon in the very centre of Ireland and Clonmacnoise was born in Early Christian Ireland. It began as a modest settlement but over time the huts were replaced impressive stone buildings. It became a thriving centre for learning and creativity. So much so, it was were the High King of Ireland was buried in the year 915.
Today, the site exists as a preserved ruin under the management of the Office of Public Works and visitors can see three high crosses, a cathedral, seven churches, and two round towers. The beautifully preserved structures of Clonmacnoise Cathedral, Temple Doolin, Temple Hurpan and Temple Melaghlin will impress and leave those who visit Clonmacnoise with an authentic sense of the history of Ireland.
To dig deeper into the fascinating history of Clonmacnoise, visit the onsite interpretive Visitor Centre, which displays a number of cross slabs and the 9th-century Cross of the Scriptures. The Clonmacnoise graveyard surrounding the site continues to be in use, while religious services are held regularly on the site in a modern chapel.Clonmacnoise is described by tourists as a 'must-see' part of any visit to Athlone and while exploring Ireland's Hidden Heartlands.
For more information and bookings